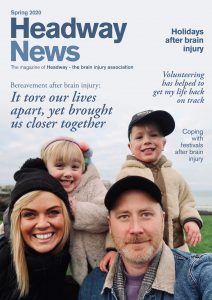 Catch up with the latest news and features from Headway, including: Bereavement after brain injury, "Volunteering has helped get my life back on track", Coping with festivals, Holidays after brain injury and much more!
Read Headway News Spring 2020 edition
In this edition, there is a moving interview about bereavement after brain injury with Lauren Gilligan, page 24, the harrowing story of comic book author Leah Moore's brain injury while at a festival, page 12, and details of how you can make a difference by volunteering in one of our charity shops, page 22. You will also find out many other ways Headway is helping brain injury survivors.