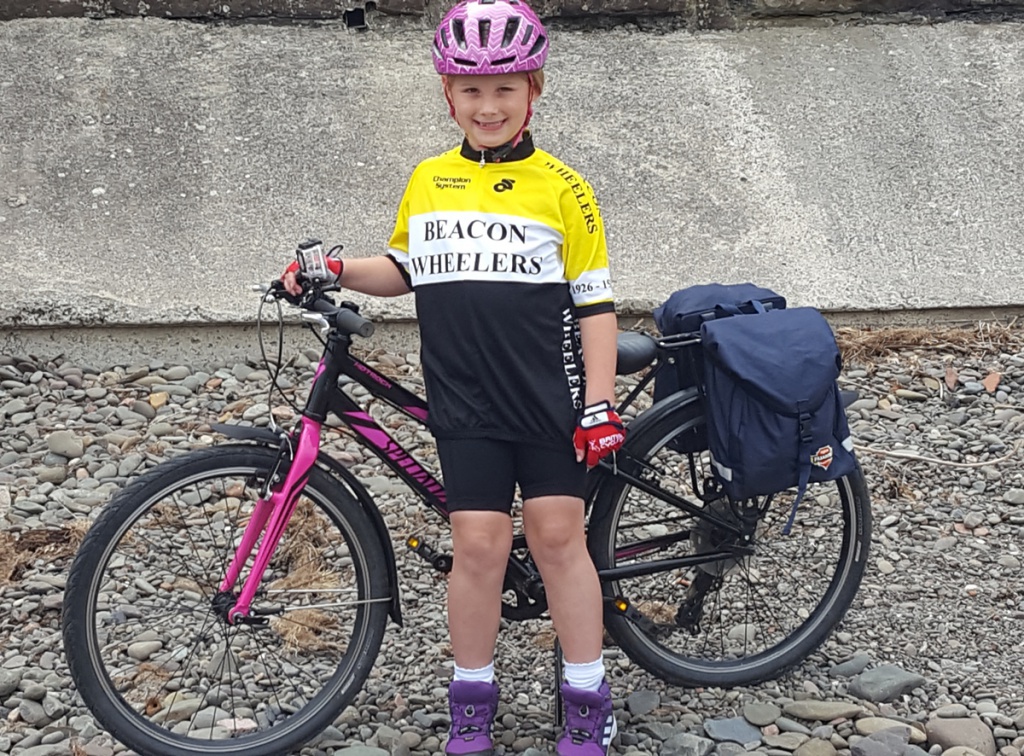 Six-year-old Robyn McLean from Wigton, Cumbria has recently undertaken a 100-mile bike ride along the Hadrian's Cycleway to raise funds for three Cumbrian charities.
Robyn and her Aunt Shona are going to the Netherlands at the end of July for a cycling tour and Robyn has been in training for this.  In early July she undertook a three day, nearly 100-mile, cycle ride from Ravenglass to Carlisle following Hadrian's Cycleway.  She decided to finish the route by restarting at Bowness-on-Solway and riding a further 100 miles across the country following the route of Hadrian's Wall.
Robyn decided to use this cycle ride to raise funds for three local charities and had set herself the target of raising £100, each, for:
–     Save Our Stan – fundraising to send Stan, a two year old with leukaemia, to Singapore for medical treatment that is not available in the UK.
–     Carlisle Eden Mind – a local charity providing mental health information, guidance and support.
–     Headway North Cumbria.
At the time of writing Robyn has raised over £1,700 which equates to over £550 for each of the charities.  Her GoFundMe page remains open should anyone else wish to make a donation.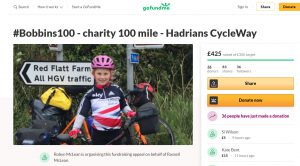 Robyn started her cycle ride along National Cycle Network Route 72 at Bowness-on-Solway on Sunday 19 July 2020 riding 33 miles to Brampton, via Carlisle.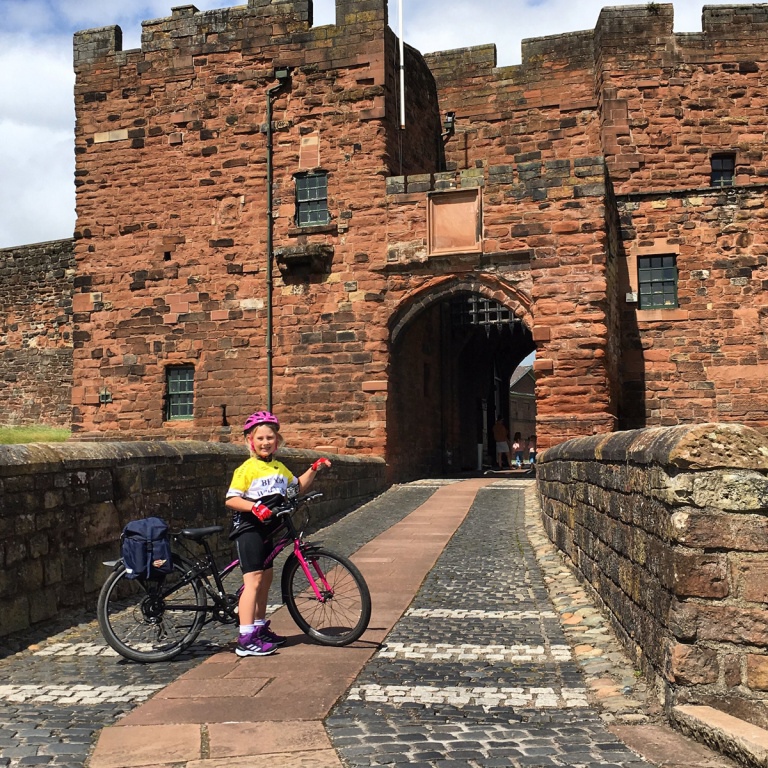 Day 2 was the hilly day which saw her riding from Brampton to Hexham.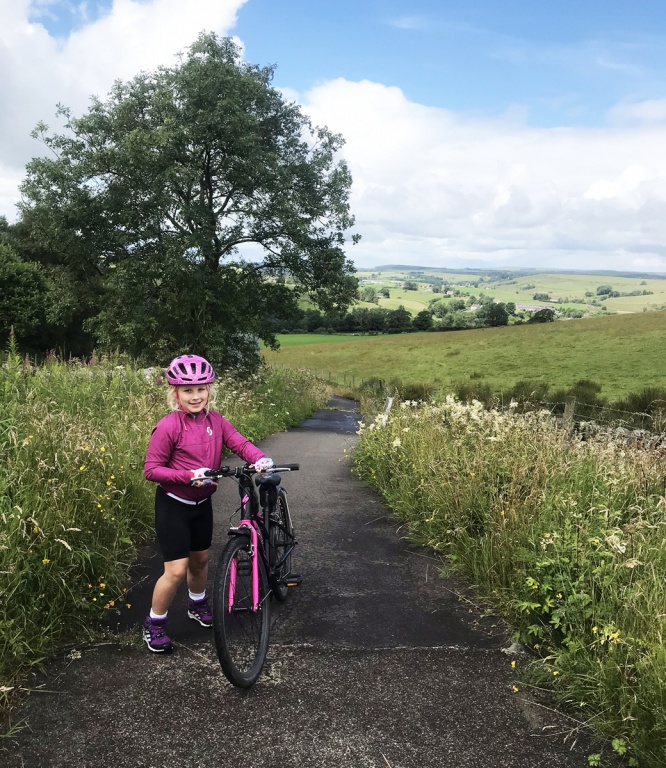 Day 3 involved cycling from Hexham, via Newcastle-upon-Tyne, to the finish at South Shields.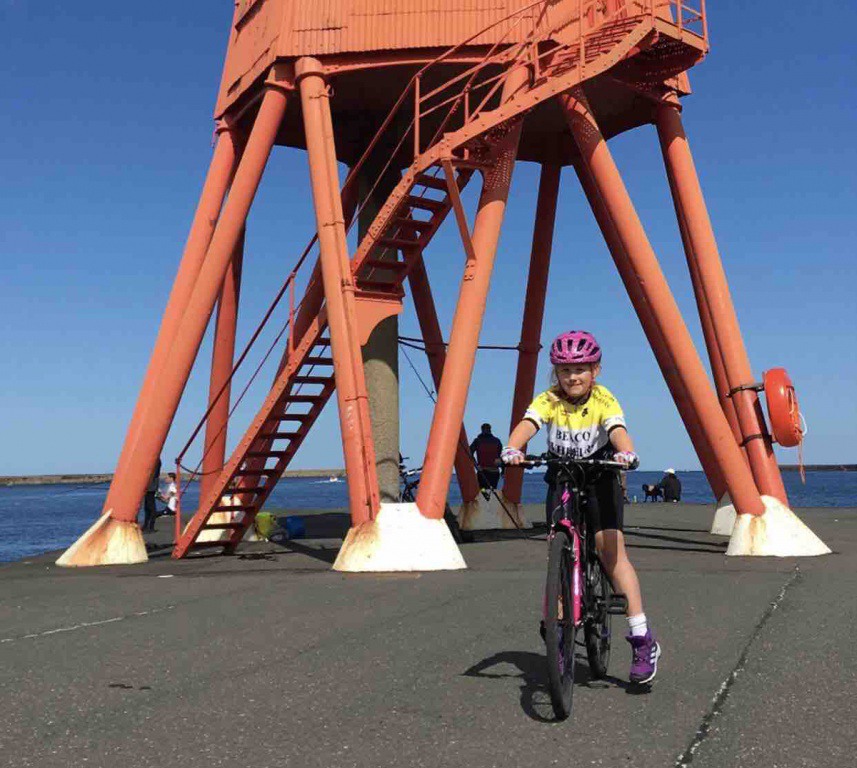 Robyn was supported by Dad, Russell, and Aunt, Shona who very kindly provided photos and stories for this article.
As might be imagined this was a challenging ride which got a little emotional a times, particularly in the up-hill bits.  But Robyn persevered and remained focused on the goal.  At Newcastle there were cries of "Are we nearly at the Fairground at South Shields yet?".   And then at South Shields it was straight off the bike, onto the beach, fish and chips and on to the funfair!
Robyn also took the opportunity to be interviewed for BBC Radio Cumbria.  Whilst available this can be accessed through BBC Sounds at the link below.  The interview was broadcast at the end of the Vicky Warham Afternoon Show at 3 hrs and 56 minutes.
Afternoons on BBC Radio Cumbria – Vicky Warham 21/07/2020 – BBC Sounds
Robyn has the following message for those that supported her through this adventure:
On the way home the family stopped off to collect a cycle part from one of the fastest cyclists in the country who is attempting to set the record for completing the 170 miles around the Northumberland National Park.  Talking about this in the car later Robyn asks "can I do that ?"  Who knows what her next adventure will be?
Everyone at Headway North Cumbria would like to congratulate Robyn, and her supporters, for such a magnificent effort and for raising so much money for three excellent causes.  Well done!!
For those that want to have more of a flavour of Robyn's ride from West to East across the Country please visit the gallery and the Photo Album entitled Robyn's Fundraising Cycle Ride.  This gallery was compiled from photos provided by Russell and Shona.  The gallery can also be viewed below: