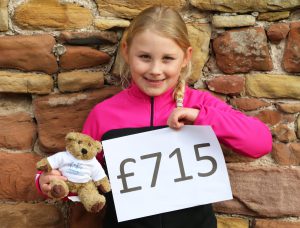 In July six-year-old Robyn McLean from Wigton, Cumbria undertook a 100-mile bike ride along the Hadrian's Cycleway to raise funds for three Cumbrian charities:
–     Save Our Stan – fundraising to send Stan, a two year old with leukaemia, to Singapore for medical treatment that is not available in the UK.
–     Carlisle Eden Mind – a local charity providing mental health information, guidance and support.
–     Headway North Cumbria.
Initially setting herself a target of £300 Robyn actually raised a magnificent £1,782 which equates to £594 for each of the charities.
Details of her adventure are included in the article we published in July
On Sunday 13 October 2020 two members of the Headway North Cumbria committee, Natalie and Julian, had the opportunity to meet up with Robyn and her family at a socially distanced outdoor meeting at a café in Bowness-on-Solway.  Unsurprisingly Robyn cycled to the meeting from Wigton.  Whilst she enjoyed a slice of chocolate cake and glass of hot chocolate we took the opportunity to thank her for her magnificent fundraising efforts on behalf of Headway North Cumbria and present her with a small gift on behalf of the membership.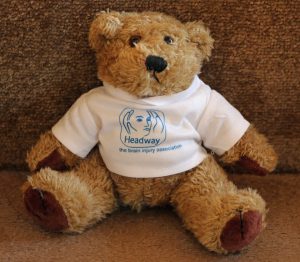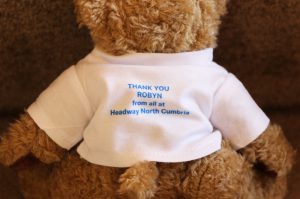 We were surprised but delighted to discover that in addition to Robyns's efforts her Dad, Russell, also a keen cyclist, had also been fundraising.  Russell, a member of the Beacon Wheelers Cycling Club, had participated in a charity time trial event and in so doing raised £ 363 – one third of which (£121) he kindly donated to Headway North Cumbria
Between them therefore Robyn and Russell have raised £715 for Headway North Cumbria.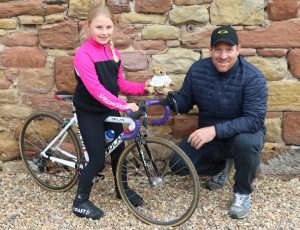 Headway North Cumbria would like to thank Robyn and Russell, family and friends for their fantastic fundraising efforts in support of local Cumbrian charities and Headway North Cumbria in particular.  Very well done!