Headway North Cumbria will be re-opening its Day Centre on 6 September 2021 after 18 months of closure due to the COVID-19 pandemic. The venue will be the same – The New Waterton Hall, Warwick Square, Carlisle, CA1 1LB – but the timings will be slightly different – we will open at 1:30 pm and close at 3:00 pm.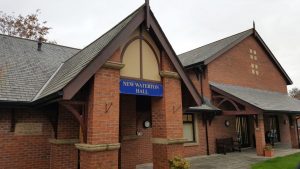 A Risk Assessment of our activities has been undertaken and the re-opening has been planned with the following considerations in mind:
– Any activity or event delivered by the branch must abide by national and local public health guidance as a minimum requirement. This includes guidance on distancing, handwashing, face coverings and presenting with or suspecting symptoms.
– Due to the vulnerability of some brain injury survivors and Headway volunteers the continued use of face masks and social distancing will be encouraged
– The decision as to what and how we run activities has and will continue to be based on local and event-specific risk factors while acting with an abundance of caution. We have considered what is safe and appropriate for volunteers, carers and members, many of whom may have underlying health conditions that make them particularly vulnerable to the effects of the virus.
With this in mind as we re-open we will start cautiously with shorter opening hours (1:30pm to 3pm) and a reduced range of activities on offer to those attending the Day Centre. Over time we will seek to extend the opening hours to what they were previously and expand the types of activities on offer.
Other changes to our routine prior to the COVID-19 pandemic can be summarised as follows:
– More structured arrival and departure processes.
– Lots of handwashing and wiping down of furniture and equipment.
– A table service refreshments process.
– Social distancing.
– The wearing of face coverings when appropriate.
– Avoidance of hugs, handshakes, high fives and other physical contact.
We know that many of our members will be keen to return, but are also aware that some may be hesitant particularly when cases of the COVID-19 are still high. We hope that by being cautious and by offering as safe an environment as we can as many of our members as possible will feel able to participate.
Anyone with questions regarding the opening of the Day Centre is encouraged to e-mail the Secretary at headwaynorthcumbria@yahoo.com or call or text the helpline on 07508 111834.