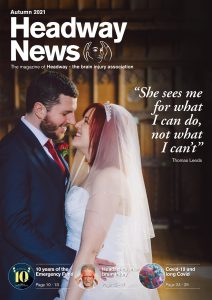 Headway has issued its autumn 2021 edition of Headway News. The magazine features features: "She sees me for what I can do, not what I can't", 10 years of the Emergency Fund, Headaches after brain injury, Covid-19 and long Covid, and much more!
Read Headway News Autumn 2021 edition
The contents of this edition are as follows:
– Latest news round up
– 10 Years of the Headway Emergency Fund
– Headaches – the whats, whys and hows
– My story: Thomas Leeds
– Fundraising and you!
– Headway Christmas cards
– Covid-19 and long Covid
– Completing the welfare benefits application forms
– Inside your incredible brain
– Creative expression – "You don't say"