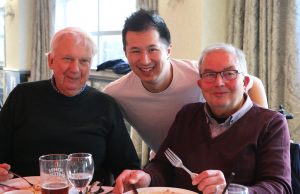 On Monday 6 December 2021 fifty-three members, volunteers, their support workers and family members from Headway North Cumbria participated in the Branch's final event of the year, the Christmas Lunch. Due to the Coronavirus panademic we had not been able to hold this event in 2020 and so it was great to see so many of our members, many dressed in festive attire, at the Function room of The Auctioneer. We had originally been anticipating more attendees but the precautionary measures recently announced by the Government had sadly, but understandably, prompted a number of participants to withdraw.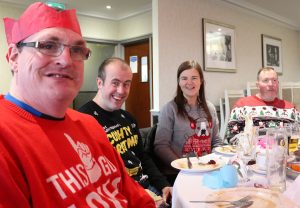 Chairman, Andrew Kirkpatrick, opened proceedings by welcoming everyone to the event providing a summary of what the branch had been able to achieve during the various lockdowns and thanking the Committee, volunteers, members and supporters who have given so generously of their time and energy to allow us to continue to provide a service to our members during such challenging times. He remarked on the fact that the re-opening of our Day Centre in September had proved to be a success and thanked those individuals that have seen fit to support us with very generous donations, or through fundraising activities.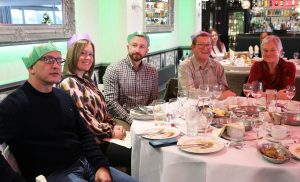 Attendees enjoyed a delicious three course meal followed by coffee and mince pies. The first course was a choice between cream of vegetable soup and melon with fruit sorbet. The main course was a choice between beef, turkey, salmon and nut roast. This was followed by a selection of desserts including Christmas pudding.
A good time was had by all. Crackers were pulled, terrible jokes shared and there was a non-stop flow of conversation and laughter.
Festivities concluded with a raffle.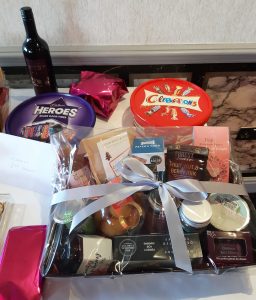 A full set of photographs from the event can be found in the gallery in the photo album Christmas Lunch – 6 December 2021 and are available to view in the slide show below.