On Monday 13 June 2022 we welcomed the duo Travelling Light to the Day Centre. Steve and Evie teamed up about 3 years ago and specialise in singing and playing for charities, church and other not for profit organisations to give something back into society.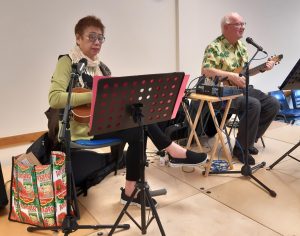 They performed an excellent set of music from a repertoire which covers many of the popular music types – sixties, seventies, country and western, and singalongs. Their aim is to be entertaining which they most certainly were with many of our members getting up to dance, singing, clapping and waving along with the music. They played an excellent mix of up tempo and slow songs made famous by a variety of artists such as Neil Diamond, Cliff Richard, The Beatles, The Mavericks, Heman's Hermits and Van Morrison amongst others.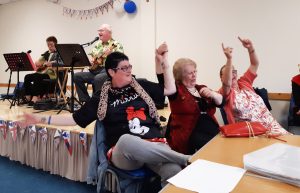 Amongst the many songs performed were Song Sung Blue, Travelling Light, I'm into Something Good, Can't Buy Me Love, Brown Eyed Girl, Dance the Night Away and, the crowd pleaser, Sweet Caroline.
A big thank you to Steve and Evie for giving up their time and entertaining us so well. It is hoped that Travelling Light will be able to perform for us again at some point in the future.
Photos from the event can be found in the gallery in the Photo Album entitled Music at the Day Centre. The photo album can also be viewed below: