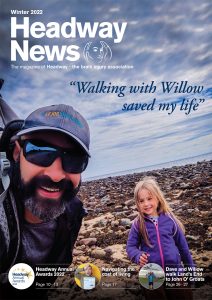 The winter edition of Headway News has been published. The final edition of 2022 features the return of the Headway Awards, the Headway Emergency Fund passes £500,000 in grants, a focus on memory problems and much more!
Read Headway News Winter 2022 edition
The contents of this edition are as follows:
– Latest news round up
– The Headway Awards are back!
– Guide to memory systems
– Navigating the cost of living crisis
– Emergency fund surpasses £500,000
– Concussion Aware Interview: Stevie Ward
– #HeadwayHeroes at the London Marathon
– David and Willow tackle Land's End to John O' Groats
– Inside your incredible brain: parietal lobes
– Creative expression