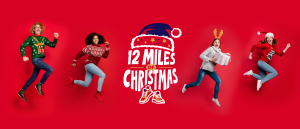 The 12 Miles of Christmas was a Headway UK fundraising initiative based on asking people to cover a distance of 12 miles, in any number of creative and festive-themed ways. It was an excuse for people to have a bit of fun in the lead up to Christmas Day whilst raising money for Headway UK or their local branch of Headway. The campaign went live on 1 November 2022 and Headway North Cumbria was one of a number of branches that signed up to participate in this event. Online donations were collected centrally by Headway UK through a fundraising platform called Give Penny and will be disbursed to the participating groups and branches.
In mid-January the Director of Fundraising at Headway UK, wrote to the various branches and groups thanking them for their interest and participation in the 12 Miles for Christmas campaign. The campaign was considered a great success in that collectively over £3,509 was raised for Headway. Special mentioned was made of our branch – "A big congratulations to Headway North Cumbria who did an incredible job and raised £ 893.00!"
Our three fundraisers Caroline, Geoffrey and Simon are to be congratulated on their efforts which, due to injury, was particularly challenging for one of them. Funds were raised online at Give Penny, by the use of sponsorship forms, and through collection boxes at the Day Centre and the branch Christmas lunch. Whilst they fundraised independently of each other, between them "Team Headway North Cumbria" raised more money than any other branch or group, with the exception of Headway UK itself, and raised over a quarter of the total funds raised by all groups and branches. Fantastic job !!