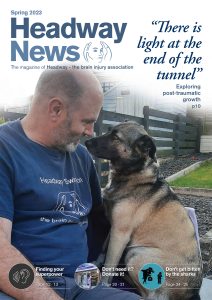 The spring edition of Headway News has been published. Don't miss the new edition which is packed with the latest news and features, including a deep-dive into post-traumatic growth, a focus on loan sharks, and inspiring artwork in our Creative Expression feature.
Read Headway News Spring 2023 edition
The contents of this edition are as follows:
– Latest news round up
– Post-traumatic growth and finding your superpower!
– "On the tip of my tongue" – Jonathan's story
– Meet our new Chief Executive – Luke Griggs
– Don't need it? Donate it!
– Make your effort count
– Don't get bitten by the sharks
– Headway Awards roundup
– Concussion subs rejection
– Creative expression