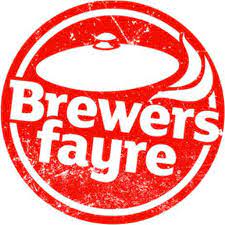 On Monday 24 April 2023 forty members of Headway North Cumbria met for lunch at the Lakeland Gate Brewers Fayre in Carlisle. Attendees enjoyed a three course meal of starter, main and dessert in a large section of the restaurant that had reserved for us.
In the weeks running up to the event attendees had been invited to pre-order from the Brewers Fayre value menu which had a wide choice of options to suit most tastes whilst representing good value for money. Most options on the menu were chosen by at least one of our diners but proving particularly popular were:
Starters – Garlic and herb mushrooms and tomato soup
Mains – Fish and chips, smothered chicken and gammon steak
Desserts – Profiteroles and caramel apple betty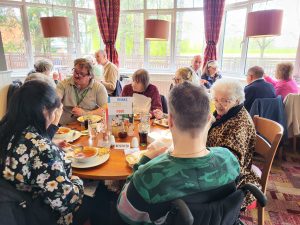 Everyone had a good meal, enjoyed engaging conversation and left feeling full and happy.
A big thank you to the Brewers Fayre staff that looked after us so well.
A series of photographs from the lunch can be found in the gallery in the Photo Album called Brewers Fayre Lunch – 24 April 2023 and can be viewed in a slideshow below.