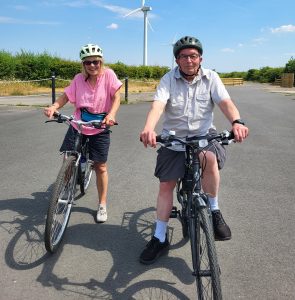 Watchtree Nature Reserve is a 205 acre, fully accessible nature reserve, situated on the Solway plain, 6 miles south west of Carlisle. The reserve has clear views to the northern hills of the Lake District and overlooks the Solway Firth estuary. Our reserve hosts different habitats, teeming with wildlife. A network of accessible trails makes it easy to explore and experience our UK wildlife in their natural habitat.
If you want a different adventure, why not hire a bike from our Watchtree Wheelers fleet? With over 100 bikes suitable for all abilities, we are sure we have a bike that will kick start your adventure. Why not treat yourself during your visit to some tasty homemade food, fresh from our Watchtree café?

Headway North Cumbria visited Watchtree Nature Reserve on Monday 12 June 2023. A group 20 participated with 14 opting to cycle with 6 others preferring to walk or simply relax in the sun. It was a hot and sunny day, but with a slight breeze which made it somewhat more bearable than when we last attended in July 2022 at a time when an Amber Warning for Extreme Heat was in place!
We met up at Watchtree at 13:00 where attendees had the opportunity to picnic in the rest area at the entrance to the Nature Reserve, or buy refreshments from the one-site café.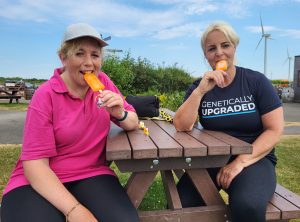 Fuelled up for the afternoon's exertions members then had the opportunity to select their transportation for the afternoon from a bewildering selection of bicycles, trikes, hand bikes and other adapted cycles available from Watchtree Wheelers.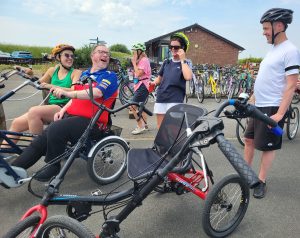 Members had the opportunity to cycle around the nature reserve on a selection of paths running through beautiful scenery with spectacular views over the Northern Fells. The verges of the cycle path were a riot of colour with many wild flowers in full bloom providing an excellent backdrop for the activities. The more energetic did multiple tours of the circuit whilst others opted to try out a number of different cycles to see which worked best for them. A good time was had by all.
We would like to thank the staff at the Watchtree Nature Reserve for hosting us so well.
A selection of photographs of this event can be found in the gallery in the Photo Album called Watchtree Nature Reserve – June 2023 and can also be viewed in the slideshow below.