On Monday 31 July 2023 we welcomed back the duo Travelling Light to the Day Centre. Steve was joined on this occasion by his granddaughter Maddie.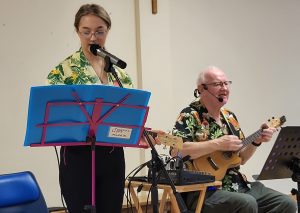 Steve and Maddie performed an excellent set of music from a repertoire which covers many of the popular music types – sixties, seventies, country and western, and singalongs. They played a fabulous mix of up tempo and slow songs made famous by a variety of artists such as Neil Diamond, Abba, Hank Williams, The Beatles, Chuck Berry, Elvis Presley and Johnny Cash amongst many others.
Travelling Light's aim is to be entertaining which they most certainly were with many of our members getting up to dance, singing, clapping and waving along with the music – with some on the dancefloor for the entire set..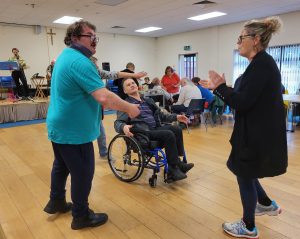 Amongst the many songs performed were Waterloo, Yellow Submarine, Johnny B. Goode, The Wonder of You, I'll Never Find another You, Another Saturday Night and Take These Chains. Travelling Light finished their set with the crowd pleasers Sweet Caroline and You'll Never Walk Alone.
A big thank you to Steve and Maddie for giving up their time and entertaining us so well. We look forward to late November when Travelling Light will return to perform a seasonal concert for us.
Photos from the event can be found in the gallery in the Photo Album entitled Travelling Light at Day Centre – July 2023. The photo album can also be viewed below: