Watchtree Nature Reserve
18 July at 1:00 pm

-

3:00 pm

N.B. This is a rescheduling of an event that was originally planned for 20 June 2022.
Watchtree Nature Reserve is a 205 acre haven for wildlife and people. Featuring flower rich meadows, old and new woodland, miles of hedgerow and wetland habitats this a place for everyone. Wildlife is perfectly at home here and we have abundant Brown Hares, the European protected Great crested Newt, numerous breeding birds, interesting moths, stunning butterflies, secretive bats and incredible dragonflies. The nature reserve is situated within much of the former RAF Great Orton airfield (1942-53) and you can still spot airfield construction dates etched into the concrete by servicemen as you explore. The Nature reserve is easily identifiable from miles away by the wind turbines located here. More recently, this place was used during the Foot and Mouth outbreak in 2001 – and even today much of the site underground is a complex network of drains, pumps and containment walls. So, if you thought this was any ordinary nature reserve you could be forgiven.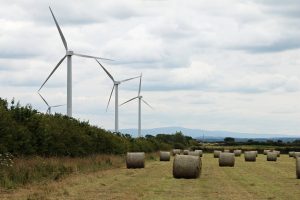 The Watchtree Wheelers provide cycle hire for all visitors to the Reserve and the huge collection of standard and adapted cycles means there is something for everybody. You could cruise along in a KMX kart getting down to the same level as the hares and the stoats or hop on a trike so you can take in the landscape views over the tops of the bustling hedgerows.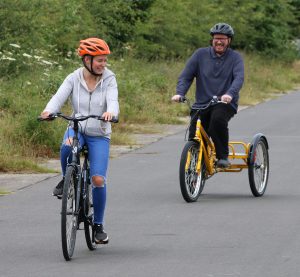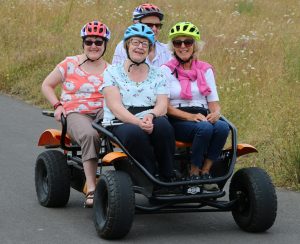 On 18 July 2022 we will visit Watchtree Nature Reserve where members will have the opportunity to walk or cycle on the various pathways that run through this beautiful wildlife area.
We will meet at Watchtree at 1pm. Attendees are invited to bring a picnic to enjoy before, during or after their walk/ride or can buy refreshments at the on-site Café.
Cost will be £2 a head, payable in advance.
The Day Centre will be open for those members that do not wish to go to Watchtree.
To view photos from the last occasion that we visited as branch (8 July 2019) please visit the gallery and the photo album entitled Watchtree Nature Reserve.