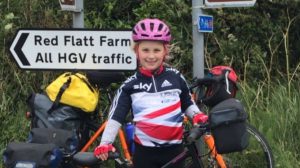 Six-year-old Robyn McLean from Wigton, Cumbria is undertaking a 100-mile bike ride along the Hadrian's Cycleway to raise funds for three charities.
Robyn and her Aunt are going to the Netherlands at the end of July for a cycling tour and Robyn has recently started training.  She has already undertaken a three day, nearly 100-mile, cycle ride from Ravenglass to Carlisle following Hadrian's Cycleway.  She now plans to finish the route by restarting at Bowness-on-Solway and riding a further 100 miles across the country following the route of Hadrian's Wall.
A video of Robyn's adventures on the Ravenglass to Carlisle leg of her training can be found here.
Robyn has decided to use this cycle ride to raise funds for three local charities and has set herself the target of raising £100, each, for:
Save Our Stan – fundraising to send Stan, a two year old with leukaemia, to Singapore for medical treatment that is not available in the UK.
MindLine Cumbria – a local charity providing mental health information, guidance and support.
Headway North Cumbria.
Robyn chose Headway North Cumbria as one of her charities because she is an advocate for the wearing of cycle helmets and is a supporter of  the Headway Cycle Safety Campaign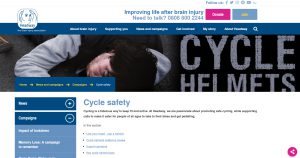 Despite the fact that she has only been fundraising for just over one day Robyn has already exceeded her £300 target and, at the time of writing, has raised £425.  Well done Robyn !  Further donations can be made through Robyn's GoFundMe page.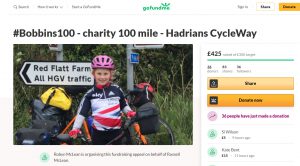 Headway North Cumbria would like to thank Robyn for her amazing efforts and wish her all the best for the charity cycle ride and her trip to Holland later in the month.  We would also like to thank all her supporters for their generous contributions.