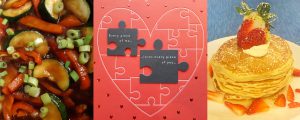 At this time of year a number of celebrations or events take place. Some of these occur on a fixed date every year whilst others have a variable date based on the lunar cycle or other factors. In 2021 a number of these celebrations – Chinese New Year, Valentine's Day and Shrove Tuesday (Pancake Day) – fell within a few days of each other.
In previous years Headway North Cumbria would have marked these occasions at the Day Centre by, for example, sharing Chinese food, making valentines cards and making and sharing pancakes. With the Day Centre closed because of the Coronavirus we could not do this as a group this year. We did, however, invite our members to share photos and stories about what they have been up to and, in particular, what they have done to recognise any of these days. Here is what they came up with …..
Chinese New Year (12 February 2021)
The Chinese New Year started on 12th February 2021 and will run to 31st January 2022. According to the Chinese Zodiac it is a Year of the Ox.
A number of our members recognised the event by enjoying a Chinese meal.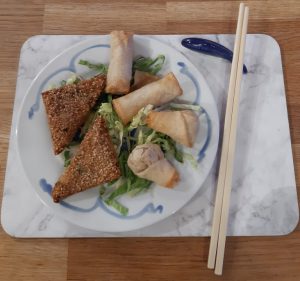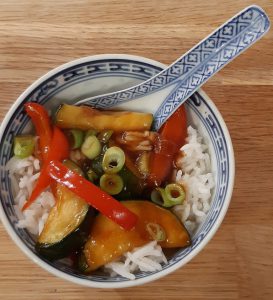 By coincidence 12th February 2021 was also the birthday of Headway member Simon who, whilst disappointed that he was unable to go out to the pub to celebrate, was able to enjoy a special birthday cake: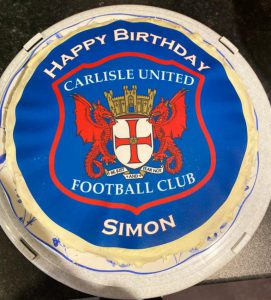 Valentine's Day (14 February 2021)
Many of our members were able to mark Valentine's Day by exchanging flowers, cards and gifts with their loved ones.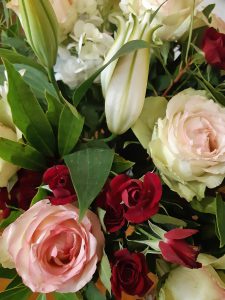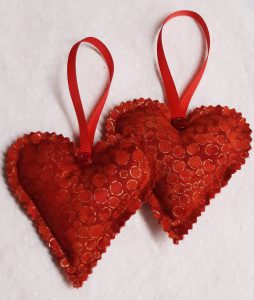 As a branch we also marked the occasion, albeit it a day late, with a special edition of our branch quiz hosted by our quizmaster Julian. The quiz had a Valentine's Day/Love theme.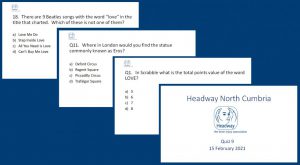 Pancake Day (16 February 2021)
We normally celebrate Pancake Day by making pancakes in the Day Centre on the Monday before Shrove Tuesday. The last time that we did this was on 24th February 2020 – shortly before the first coronavirus lockdown. Here's a photo from the Day Centre last year: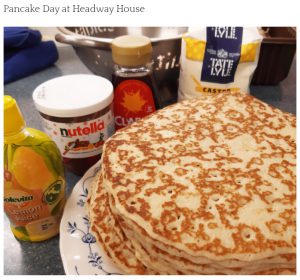 This year Headway North Cumbria members made pancakes at home and shared photos and videos of their efforts including:
… a marvellous maple syrup pancake stack: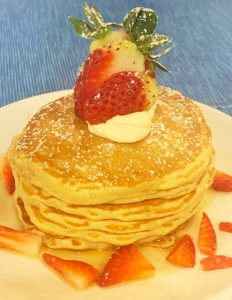 … some successful pancakes …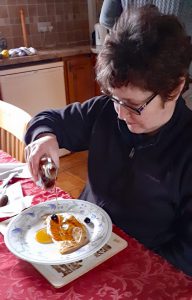 … and some attempts that were somewhat less successful than others!
Other Activities
Members have also been keeping themselves busy in a variety of other ways. Some have been enjoying socially distanced walks such as this one taken by Kathleen at a frozen Hammond's Pond in Carlisle …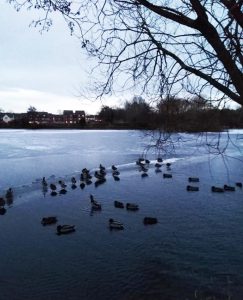 .. whilst others have been, painting, cooking and crafting – including this excellent beading made by one of our volunteers.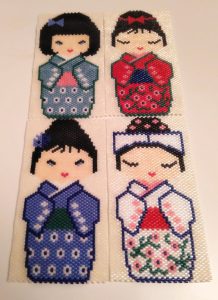 For a full set of photos photos of what our members have been up to during February please visit the gallery in the Photo Album entitled Chinese New Year, Valentine's Day & Pancake Day. The gallery can also be viewed below: