The Platinum Jubilee of Elizabeth II was celebrated in 2022 to mark the 70th anniversary of the accession of Queen Elizabeth II on 6 February 1952. In the United Kingdom there was an extra bank holiday and the usual Spring bank holiday was moved from the end of May to the start of June to create a four-day Jubilee bank holiday weekend from Thursday 2 June to Sunday 5 June 2022. Throughout the country there were numerous official and unofficial events to celebrate the Platinum Jubilee.
On Monday 6 June 2022 Headway North Cumbria held its own celebration in the form of a street party in the main hall of the New Waterton Hall. This was our best attended event so far this year.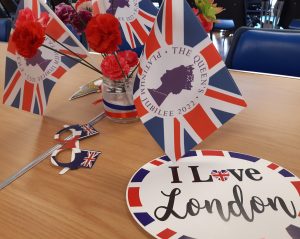 In the spirit of street parties across the country we asked our volunteers and members to bring food to share with others. As a consequence the 41 attendees were treated to a magnificent spread of savoury and sweet delights, all served with tea or coffee. Contributions included pinwheel sausage rolls, pork pies, a variety of sandwiches, lasagne, quiche, sliced beef and salsa, scones, a selection of cakes and cup cakes, biscuits, popcorn, crisps, trifle and even a magnificent Platinum Pudding – lemon swiss roll and amaretti trifle. A huge thank you to everyone who brought something along.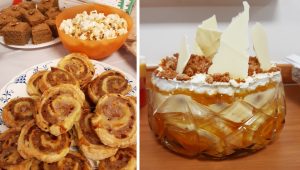 Everyone entered in to the spirit of the occasion and a good time was had by all!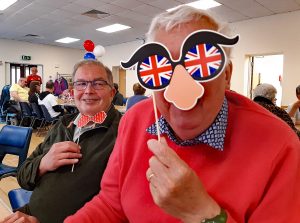 Photos from the event can be found in the gallery in the Photo Album entitled Platinum Jubilee Street Party. These include photos of setting up, the wide range of delicious foods available, and our members clearly enjoying themselves. The photo album can also be viewed below: