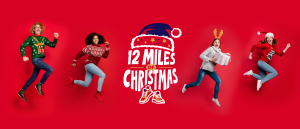 What is it?
The 12 Miles of Christmas is a Headway UK fundraising initiative based on asking people to cover a distance of 12 miles, in any number of creative and festive-themed ways. It's an excuse for people to have a bit of fun in the lead up to Christmas Day whilst raising money for Headway UK or their local branch of Headway. The campaign went live on 1 November 2022 and Headway North Cumbria is one of a number of branches that have signed up to participate in this event.
When is it?
1st December – 25th December 2022
Who can take part?
There is no limit to the amount of people who can take part and it is open to everyone. People can take part individually or in teams.
What will I need to do?
The idea is that participants will need to complete a distance of 12 miles in any manner that they like. There is no need to get the running gear out (unless you want to) – you can get The 12 Miles of Christmas done by putting on a Christmas jumper, going out for a walk, delivering cards, or even shopping for last-minute presents.
How much would it raise?
The campaign is being managed by Headway UK using the fundraising platform Give Penny. It is hoped that each supporter taking part can raise a minimum of £150 but anything that supporters can raise will make a difference to the work undertaken by Headway.
How do I take part?
If you are interested in taking part and raising some money for Headway North Cumbria you have the option of having your own online fundraising page or joining "Team North-Cumbria" for which a fundraising page has already been set up on behalf of the branch. Once set up you can then start fundraising in any way you like, by asking friends and family to help either by donating or pledging an amount for the full activity.
I don't want to take part but do want to support those that do.
A number of members and supporters of Headway North Cumbria have agreed to fundraise as Team "North-Cumbria". They include Geoffrey who will be running 12 miles around the Eden District dressed as Father Christmas; Philip who will also be running 12 miles; Caroline and Simon who will both be walking 12 miles.
If you wish to support them you may do so by three methods:
– through the online giving page at Give Penny https://givepenny.com/nataliesimpson_the_12_miles_of_christmas
– by signing up on the sponsorship forms of one of the individuals taking part.
– by donating at the Day Centre or at the Christmas lunch.
What now?
If you feel that you wish to participate in this campaign as a fundraiser please discuss with Natalie or Julian who will provide more information and help with any registration that may be required – this is necessary to ensure that any funds you raise go the right branch!