On Monday 5 December 2022 we welcomed back the duo Travelling Light to the Day Centre. Steve and Evie performed two sets for us.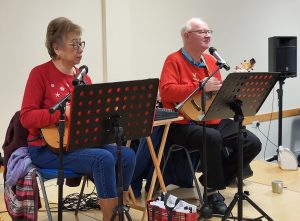 The first set was drawn from a repertoire of popular music types. The band played an excellent mix of up tempo and slow songs made famous by a variety of artists such as Neil Diamond, The Beatles and Van Morrison amongst many others. Our members very much enjoyed singing to and dancing along with this varied mix of songs.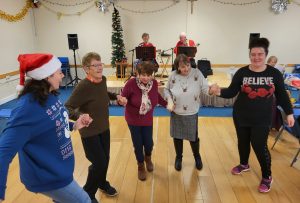 The second set was much more seasonal in nature with a wide selection of traditional and popular Christmas songs. Travelling Light had very kindly brought along some songbooks allowing our members to fully participate in a festive singalong. Amongst the many favourites were Frosty the Snowman, Blue Christmas, Santa Claus is Coming to Town, Mistletoe and Wine, White Christmas and the crowd pleasers, Merry Christmas Everybody, Jingle Bells and Rudolph the Red Nosed Reindeer.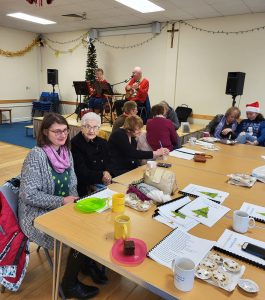 A big thank you to Steve and Evie for, once again, giving up their time and entertaining us so well and getting us all in a festive mood. It is hoped that Travelling Light will be able to perform for us again next year.
Photos from the event can be found in the gallery in the Photo Album entitled Christmas with Travelling Light. The photo album can also be viewed below: