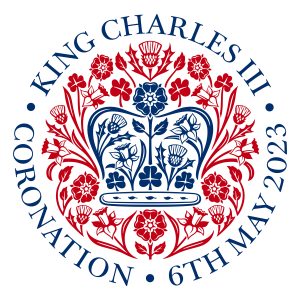 Charles III became King immediately upon the death of his mother, Elizabeth II, on 8 September 2022. The coronation of Charles III and his wife, Camilla, as King and Queen of the United Kingdom and the other Commonwealth realms took place on Saturday, 6 May 2023, at Westminster Abbey. A variety of ceremonial, celebratory and community events took place over the Coronation Weekend between Saturday 6 and Monday 8 May 2023.
Headway North Cumbria held its own celebration in the form of a street party in the main hall of the New Waterton Hall. So as not to clash with events over the Coronation Weekend we held our street party a week later – on Monday 15 May 2023. We met from 1pm and held our street party between 1:30pm and 3:30pm. Prior to the event over 40 people had told us that they would be attending, but on the day we were delighted to have 53 turn up. This was to be our best attended event of the year, so far!
The hall was decorated with bunting, flags, balloons and floral displays in red, white and blue. Those that chose to do so had the opportunity to wear paper crowns or other celebratory items.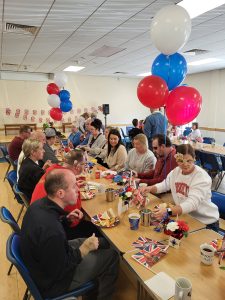 In the spirit of street parties across the country we invited our volunteers and members to bring food to share with others. People were extremely generous and we had a wonderful spread of items including sandwiches, sausage rolls, pork pies, quiche, cheese straws and even lasagne. The dessert selection comprised a wide range of delicious cakes, cup cakes, meringues, scones, traybakes, and trifle.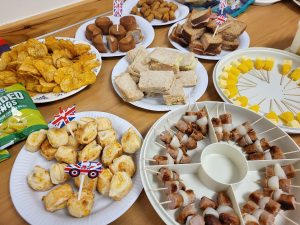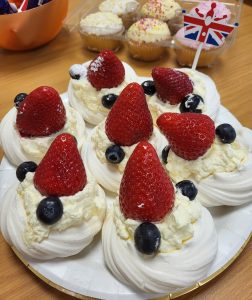 A good time was had by all as can hopefully be seen in the photographs accompanying this article.
A huge thank you to our fantastic team of volunteers that worked so hard to ensure that the street party ran so smoothly. We would also like to thank everyone that brought food along to share, those that made the floral decorations, and those that helped decorate the venue.
A selection of photographs from the event can be found in the gallery in the Photo Album called Street Party for Coronation of King Charles III and can be viewed in a slideshow below.